QualityAssist
Quality at Manual Work Stations
Benefits
Cost reduction
Active worker guidance with real-time HMI work instructions
Avoidance of random errors
100% quality assurance during the value creation process
Reduction of liability risks
Poka-Yoke – error avoidance – in its purest form
The Ultrasonic-based QualityAssist Assistance System can accurately and reliably detect the position of objects moving freely in space. In millisecond intervals noiseless and physiologically harmless signals are emitted to track movements with millimeter precision. Adjacent work stations can be operated without any interference.
EasyWorkflow – Mobile and Desktop Application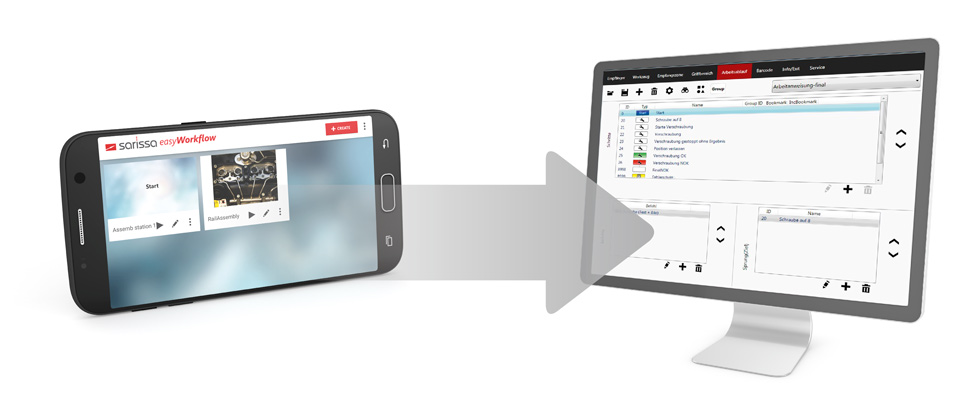 QualityAssist Software
Intuitive, modern user interface and user guidance with various wizards
Easy teach-in and clear visualization of positions and support of complex workflows
User management with Wizard assistant functions
Parameterization instead of programming
Extensive software functions such as jumps, branching and timer
Test functions for the transmitters as well as for the digital I/Os
Visual work instructions can be supported via voice output
Connection to CAQ and ERP systems possible
Sarissa sensor glove
By having the worker wear a glove with integrated, almost invisible electronics, the position of the worker's hand can be precisely detected and tracked throughout the manual work process. The data glove follows the exact position of the hand in space, which is especially important in confined working areas, so that any confusion between nearby positions is precluded. The transmitter itself weighs only 27 grams and can last up to 11 hours of use. For two-handed operations, the receiver distinguishes between the left and right hands. Thus, thee employee is fully supported and assured of flawless work outcomes during the value-creation process.
Maximum Compatibility
Sarissa assistance systems fit perfectly into a networked production environment. In terms of Industry 4.0, the PositionBox and the QualityAssist provide exact, quality-relevant location information. Via TCP / IP, PROFINET or EtherCAT connection and a real-time data protocol, the LPS communicates with higher-level controllers, whether PC or PLC. With powerful commands, the LPS can be remotely controlled. Work instructions can thus be put together in real-time from existing basic information generated by the production control of the user.
The result: a highly flexible control of the production of products according to customer requirements, true Batch Size One production. Human errors of neglect, omission, and confusion are no longer possible. In order to connect tools, the LPS has four open-protocol interfaces. Modbus-TCP to digital inputs and outputs completes the communication possibilities. For remote assistance or maintenance, the second network interface can be used with TeamViewer®.